CQ WEEKLY – IN FOCUS
April 14, 2012 – 12:38 p.m.
Two-Pronged Immigration Policy Alienates Both Sides
By David Harrison, CQ Staff
A six-page memo issued by the Obama administration last June offered to quietly revolutionize immigration enforcement in the country.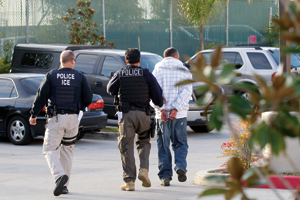 | | |
| --- | --- |
| GOTCHA: Federal agents make one of more than 3,100 arrests in a nationwide sweep on March 30. (GREGORY BULL / AP) |   |
The memo, signed by John Morton, director of the Immigration and Customs Enforcement agency (ICE) at the Homeland Security Department, directed field agents to back away from prosecuting illegal immigrants who are not criminals or threats to national security.
The "prosecutorial discretion" memorandum was one half of the administration's attempt to balance campaign promises to immigrant advocates with Republican demands for stronger enforcement. For the other half, the administration was beefing up border security and expanding a Bush-era program called Secure Communities that plucks illegal immigrants from local jails for possible deportation. In fiscal 2011, the government deported almost 400,000 people, a record.
Almost a year later, President Obama's bifurcated policies have alienated both sides of the debate over immigration, one of the more pressing issues of the 2012 campaign. Republicans complain that Morton's memo is a deliberate attempt to bypass Congress and grant "administrative amnesty." At the same time, immigration advocates and many Democrats say the prosecutorial discretion policy has only caused confusion for their clients, while Secure Communities threatens them with deportation for little more than a broken taillight.
"When the prosecutorial discretion memos came out last June, we looked at this and went, wow, this is really potentially a sea change here," says Laura Lichter, an immigration attorney in Denver who has called for a more lenient deportation policy. "We're waiting, and we're not really seeing as much as we had expected. People are starting to get frustrated because they think that it promised more than it's actually delivered."
House Republicans have suggested that they will look for ways to block the prosecutorial policy. Alabama Republican Robert B. Aderholt, chairman of the Homeland Security Appropriations Subcommittee, called the policy an "abuse of the law that, quite honestly, this subcommittee cannot tolerate."
The administration's stance has also stymied the courts. A three-judge panel from the 9th Circuit Court of Appeals threw up its hands in February and put five deportation cases on hold while it asked the government whether the cases qualified for relief under the new policy, or not.
Acting on Its Own
This is yet another example of the Obama administration asserting its executive authority because partisan rancor in Congress has stalled efforts to overhaul federal law. In this case, supporters have pressured Obama to make good on his 2008 pledge to improve the immigration system. The results have proved far too limited for some and far too broad for others.
Peter Markowitz, a law professor at Yeshiva University, says the administration's appeal to conservatives has been driving this seemingly conflicted immigration policy. "It's a real miscalculation," he says.
The administration disputes that characterization. "Our policies have been simultaneously described as engaging in a mean-spirited effort to blindly deport record numbers of illegal immigrants, and alternatively described as comprehensive amnesty that ignores our responsibility to enforce the immigration laws. These opposing views are both incorrect," Homeland Security Secretary Janet Napolitano said at an October hearing. "Investing discretion in all our immigration enforcement officers and immigration lawyers is not amnesty. It is a prioritization system that begins with finding and removing individuals who are criminals and repeat offenders."
The June memo directed ICE agents to back away from aggressively prosecuting illegal immigrants who have worked in the country for a long time or who have an American spouse or children. Those brought to the United States illegally as children would also get a reprieve, as would people who stayed out of legal trouble and enrolled in college or aspired to join the military.
Two-Pronged Immigration Policy Alienates Both Sides
Administration officials have started reviewing their entire deportation docket. A pilot program in Denver and Baltimore found that slightly more than 13 percent of people in deportation proceedings were eligible for prosecutorial discretion, although advocates say many of them would have won relief from a judge even if prosecutors hadn't dropped their cases. That program will be expanded to seven other cities later this year, including Los Angeles and New York.
Even so, the memo left it to prosecutors to determine when individual cases merited this discretion. That has led to incidents in which advocates say promising young people find themselves singled out for deportation.
Case Study
That's what happened to Pedro Gutierrez. Originally from Mexico, Gutierrez was brought to the United States illegally by his grandmother when he was 6 or 7. Now a 24-year-old high school graduate in Casa Grande, Ariz., Gutierrez says he learned of his legal status only when he applied to join the Marines. He and his American girlfriend recently had a daughter, also a citizen.
Gutierrez and his attorney have been waging a prolonged legal battle with ICE, which has been trying to deport him since he was charged with driving without a license in 2009. After giving him a one-year stay in January 2011, the agency recently told him to report April 17 for deportation.
"I have nothing in Mexico," he says. "I'd be homeless, pretty much."
Some ICE agents are also unhappy with the policy, although for a different reason. Chris Crane, president of the National ICE Council, a union representing agency employees, calls it "a public statement intended to satisfy immigrant advocacy groups pressuring the administration." The agency didn't consider the time and resources needed to implement the changes, Crane told a House committee last year.
Republicans have sent letters to Napolitano and Attorney General Eric H. Holder Jr. criticizing the new rules. "The administration's prosecutorial discretion policy circumvents our immigration laws," House Judiciary Chairman Lamar Smith of Texas and Sen. Charles E. Grassley of Iowa wrote last month. "Despite the administration's claim that there is nothing new with respect to this policy, it represents a drastic and unprecedented shift."
Doris Meissner, a former commissioner of ICE's predecessor agency, the Immigration and Naturalization Service, says the administration deserves some credit for reviewing deportation cases.
"They're doing a very commendable and unprecedented job of trying to work through this caseload," she says. "I do think that there were inflated expectations of what ultimately it would generate. These are ultimately law enforcement agencies, and they're not going to set every case aside."
While administration officials have been trying to ease the pressure on some illegal immigrants, they talk tough about those who commit crimes while in the United States.
"By deploying Secure Communities, among other things, we are now seeing the composition of the numbers deported change, and the composition is changing to reflect that we're deporting more criminals than ever before," Napolitano testified.
Two-Pronged Immigration Policy Alienates Both Sides
Under the program, begun in 2008, ICE receives fingerprints of people arrested by local police and compares them with its database of legal immigrants and those who are known to have violated immigration laws. If ICE finds that someone can be deported, it detains that person as soon as he or she is released from custody.
Last year, almost 80,000 people were deported under the program. Roughly 84 percent of the country's jurisdictions take part, and the administration plans to expand it nationwide by next year.
But ICE statistics suggest that many of those caught aren't hardened criminals. So far this fiscal year, about 28 percent of the people deported under Secure Communities had been convicted of an aggravated felony or multiple felonies, up from 26 percent last year.
"It casts too wide a net and then is somewhat indiscriminate on what it throws back," Lichter says. "They either have no criminal history, or if they have any criminal history, it's pretty minor: driving without a license and other sorts of status-related crimes."
Republicans, meanwhile, say the rollout of Secure Communities has taken too long. Aderholt has called on ICE to fully implement the program in his home state of Alabama. Morton said last month that he planned to modify the program. Immigration attorneys say they would rather see it scrapped.
"For all the rhetoric about this being a program going after the worst of the worst, that's not what it is," Markowitz says. "I think they need to stop worrying about their right flank and start worrying about the immigrants who put them in office."
Until the administration reconciles its get-tough approach with the prosecutorial discretion policy, people such as Pedro Gutierrez will continue to face deportation. On April 12, less than a week before he was to report to ICE, he got word that he had received another yearlong reprieve. His lawyer credits the public pressure surrounding his case.
Meanwhile, Gutierrez and his girlfriend are talking about getting married.
FOR FURTHER READING: Arizona immigration law, 2011 CQ Weekly, p. 2646; Secure Communities, p. 1977.