CQ WEEKLY – VANTAGE POINT
Dec. 15, 2012 – 1:23 p.m.
One Senate Day = 3,888 Hours
By Niels Lesniewski, CQ Staff
Senate Majority Leader Harry Reid says changes to the Senate's rules to reduce procedural delays will take place on the first day of the new session in January, during a window of opportunity that doesn't require the usual two-thirds majority vote to stop a filibuster.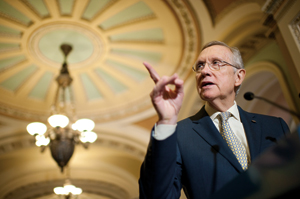 | | |
| --- | --- |
| START THE CLOCK: Reid's vow to act on the first day could stretch for weeks or months. ( TOM WILLIAMS/CQ ROLL CALL FILE PHOTO) |   |
The Nevada Democrat does have some wiggle room, however. In the Senate, even the definition of a day is open to negotiation. While the first day will begin on Jan. 3, as required by the Constitution, there's no reason to believe it has to end there. That's because the Senate works on a schedule of legislative days that do not necessarily correspond to calendar days, just as the time for "morning business" can stretch into the night.
The late Robert C. Byrd, the Senate's procedural master in recent decades, holds the record for the majority leader keeping the Senate in the longest legislative day, which took place in 1979 and ran for 162 calendar days. Under the process, the Senate recesses rather than adjourns from day to day.
The West Virginia Democrat used the maneuver to push his own changes to the filibuster rule, a few years after the threshold for ending debate on most bills and resolutions was reduced from two-thirds to 60 votes.
The process is no secret to Reid, who did the same at the start of the 112th Congress. In 2011, the first legislative day ran from the opening of the session through Jan. 25.
Those who wanted to change the filibuster that year saw their chance to adjust the rules using a simple majority vote die a quiet death when, during President Barack Obama 's State of the Union address, news circulated that the Senate would formally adjourn.
Afterward, Tom Udall of New Mexico, one of the leaders of the Democrats' effort to overhaul the Senate's rules, acknowledged they did not have even the 51 votes needed to employ the strong-arm tactic, which was termed "the nuclear option" by foes in the minority and "constitutional" by supporters.
"We don't have the votes to do the constitutional option," Udall said that night. He and others believe the landscape has since changed.